A powerful tool for studying the nature and outcomes of human-environment interactions.
Research on the structural complexity of networks is part of the growing trend of research on complex systems. Network analysis is a theoretical framework based on interactions (network links) between system elements (network nodes) and the nature of the interactions, represented by a graph (Figure 1). Applying network science on social-ecological systems (SES) enables researchers to study social and biophysical elements and processes as truly integrated systems. Thus, social-ecological network analysis enables integration of knowledge and data from different sources to gain new insights and increase understanding to improve environmental and human well-being. It allows environmental or ecological issues to be viewed from social perspective, or social issues to be viewed from environmental perspective.
Figure 1. a) A network graph. b) Social-ecological networks commonly include both social and ecological elements, for example farmers' social network (red nodes), natural resource management (links between red and blue nodes) and ecological predator-prey interactions (links between blue nodes).
When is social-ecological network modelling used?
In social-ecological systems science, network analysis is most commonly conducted for the following reasons:
To understand and statistically describe the structure of a SES. In addition to gaining in-depth knowledge on the social-ecological complexity and its outcomes, network scientists commonly look for certain structural features that are generic markers of low resilience.
To identify the direct and indirect impacts of change, whether environmental (e.g. habitat loss, species extinction) or societal (e.g. changed harvesting quotas, decreased trust among stakeholders), or external to the system (e.g. resource collapse elsewhere affecting global trade). Regardless of which network node(s) the initial change begins in, its cascading effects – if any - can be detected throughout the social-ecological system. SES network analysis also enables researchers to detect the direct and indirect impacts of changes that affect both social and ecological subsystems simultaneously (e.g. new harvesting technique, climate change).
To describe positional roles of individual social or ecological elements. Positional analysis enables identifying social or ecological nodes that play important roles in maintaining or altering social-ecological system states.
To understand the effects of intermediate connectivity in SES, i.e. the dynamics that are produced by the interactions between social and ecological subsystems. Integrating social and ecological complexities, especially in dynamic network analysis, often reveals a richer diversity of interdependencies, feedback loops and thresholds than can be detected in either social or ecological system analysis.
What are the common analytical tools?
Social-ecological networks are typically either (at least) two-mode networks (Figure 1b), consisting of two types of nodes, i.e. ecological and social, or multi-level networks (Figure 2), in which two networks are coupled together. It is also possible to make a network of ecological elements linked together by social connectivity, or vice versa. Both nodes and links can be weighted, i.e. include values such as abundance.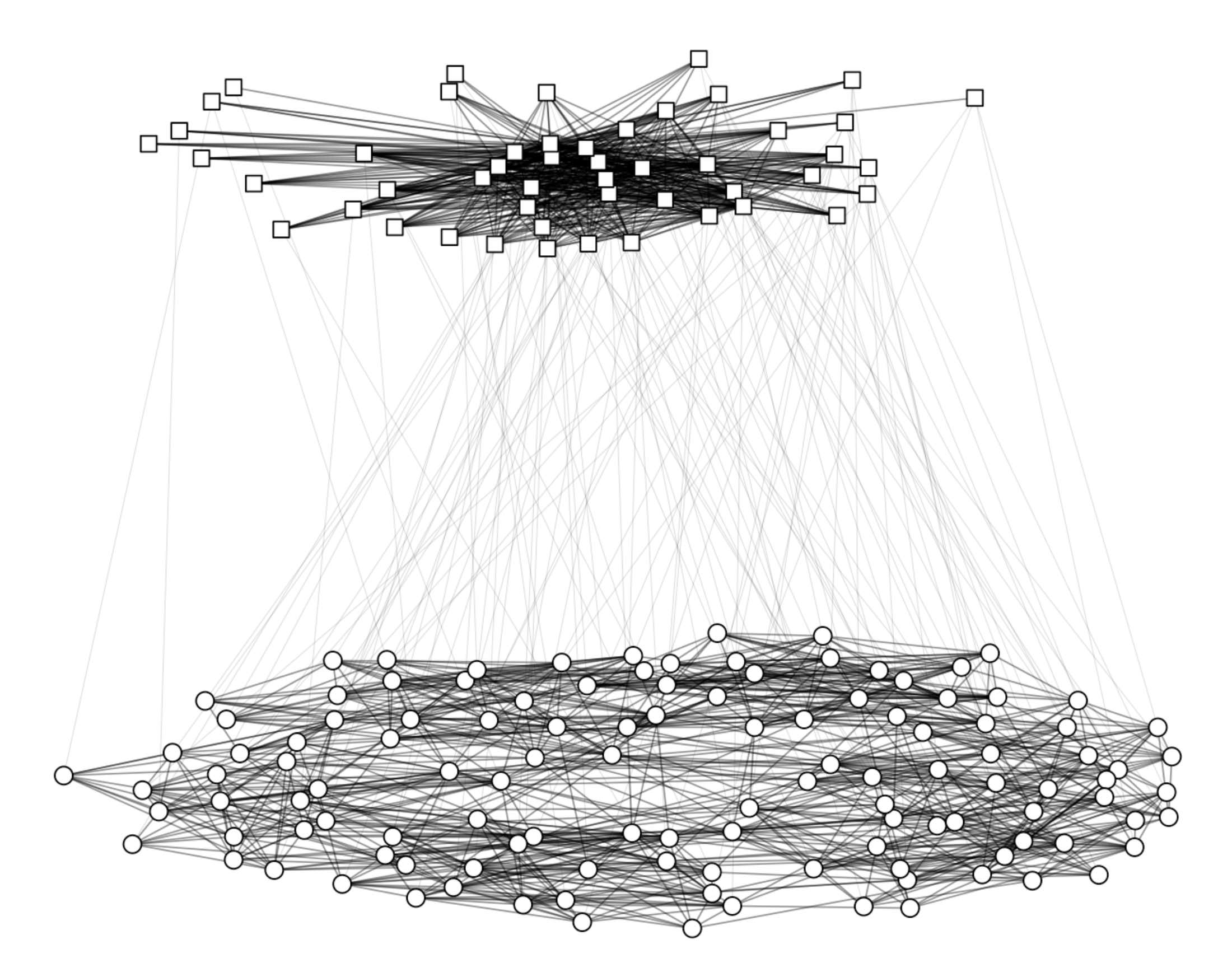 Figure 2. A multi-level network is a network of networks, such as social network of information sharing and ecological network of species' movement in space. A multi-level network can be studied as a whole or research can focus on some component of it.
A rich set of analytical tools is available to unravel how complex networks behave, given the individual dynamics of network elements and their coupling structure. It is the researcher's task to decide which type of analysis should be conducted to answer the research question. Network analysis is a highly flexible methodology, and that flexibility allows network science to answer new types of questions and to develop new approaches to studying SES.
Much of the value of network analysis comes from analysing the system-wide network properties and their relation to network-level or node-level outcomes. The common analytical approaches include the following.
Network indices: numerous indices are available for describing network structure, which can also be used to compare different networks to detect system change in time. Examples include shortest average path length, which indicates how fast things can be transmitted within the network (e.g. information flow, pollution), and compartmentalisation, which reports the level of clustering in the network.
Network mismatches: comparing the structures of spatial social and ecological networks associated with each other enables detecting how the social and ecological connectivity are aligned. This approach is commonly used to detect spatial mismatches in environmental management, such as governance institutions not covering the entire spatial scale of interconnected biophysical resources (e.g. species migration).
Network interventions: network manipulation, such as addition of a positionally important node (may require dynamic network analysis) or gradual removal of nodes or links, enables testing the susceptibility of a SES to management interventions or network errors (e.g. extinction cascade).
Social-ecological motifs: identifying social-ecological network sub-patterns enables focused research on the intermediate layer of social-ecological systems, such as characterising the nature of resource sharing in a big, complex SES network.
Figure 3. A social-ecological network motif, i.e. a network subpattern, describing a situation in which fishers are able to switch harvesting techniques (ht), and changes in harvest species (fish) abundance will affect another harvest species through predator-prey interaction.
Dynamic network models: while SES network analysis is often conducted on static networks, dynamic social-ecological network analysis includes dynamic flows between network nodes (e.g. diffusion of behavior among social actors, species movement on metahabitat) or/and network rewiring, i.e. changes in network structure (Figure 4). Dynamic network analysis enables studying how a SES evolves in time, for example in response to different management strategies.

Figure 4. Dynamic network analysis can be used, for example, to study how a social-ecological system evolves in time (t).
What kind of data is needed?
Constructing empirical social-ecological networks can be done with any kind of quantitative or qualitative data as long as system elements and their connectivity can be identified. It is also possible to apply theory-based assumptions of connectivity to construct a network, such as homophily in social networks. Theoretical social-ecological network analysis can also be done by generating networks that meet desired structural requirements.
What are the caveats?
Network analysis framework can be quite restrictive, as it requires reducing a SES to well-defined set of system elements. However, it is exactly the reductive nature of graphical structure that has enabled rich mathematical development of network science and application of network analysis on a wide variety of scientific questions. In SES research, network analysis requires good data availability on social and ecological components of the system, as well as their connectivity, which is still relatively rare. In comparison to social or ecological network analysis, little methodological guidance is available for social-ecological network research. Finally, network analysis is based on assumptions on what is interacting, the nature of interaction, and the time scale in which interactions take place. Hence, getting the correct results is influenced by appropriate assumptions.